우리는 manufactuer 및 좋은 품질, 매우 경쟁력있는 가격으로 smt 이중 스플 라이스 및 splice 도구 wholesell 있습니다.
SMT fuji Joint splice tape
High Viscosity AI Splicing Tape
Black color splice tape for panasonic machine
Silver color splice joint tape for Fuji machine
Smt/Ai Splice Tape
단일 스플 라이스 테이프. 8-56 mm. 노란색, 파란색, 녹색, 검은 색.
강한 접착력을 가진 이중 스플 라이스 테이프.

완벽하고 믿을 수있는 조인트를 보장합니다. • 공구 또는 고정 장치없이 조인하십시오. • Samsung pick and place machine에 적합합니다.

SMT Splice Tape
For all kinds of carrier tape splicing,operating easily,costing effective.
SMT Double Splice Tape(Sereis 01)
Two lines of dimples desing that allows for easy operation and saving labor.
Wide backing desing and easy removal.
Excellent adhesive tape ensures perfect splicing results and makes full use of leftover
P/N

Category

Qty/Unit

0108

Yellow Double Splice Tape 8mm

500 Pcs

0112

Yellow

Double Splice Tape 12mm

500 Pcs

0126

Yellow

Double Splice Tape 16mm

500 Pcs

0124

Yellow

Double Splice Tape 24mm

250 Pcs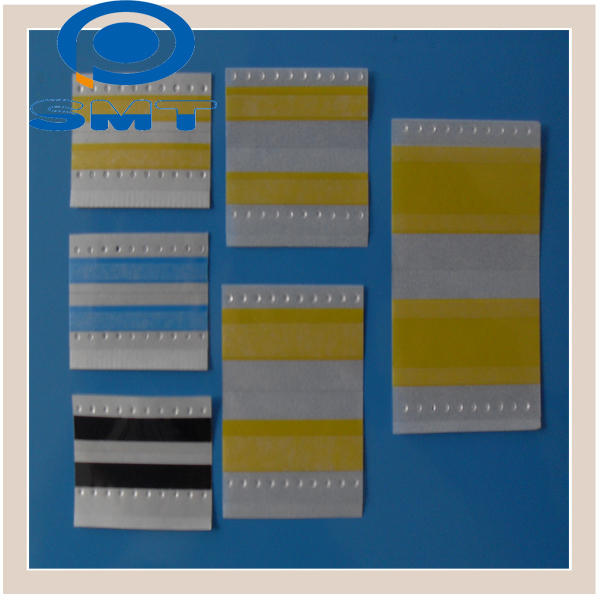 Related Products:
1. Fuji Grease Gun
2. Panasonic Grease Gun
3. THK MG70 Grease Gun Unit
4. NSK HGP Grease Gun Unit
5. Yamaha Grease Gun Unit
6. 400G Grease Gun
7. THK, NSK, Panasonic, Yamaha, Kluber Grease, high temperature grease/ oil, etc.
8.SMT Carrier tape producer,High Viscosity AI Splicing Tape,SMD yellow splice tape
Our advantage
A. Various brands available
B. Offer customized service
C. Large stock- more thank 5000 kinds of parts, fast shipping
Packaging & Shipping
Shipping
We ship to Worldwide.
Items are shipped via Fedex, DHL, or UPS, for some country which is not available, will choose EMS TNT or other ways.
제품 디렉토리 : SMT / AI 스플 라이스 테이프